Jack of Spades
Control with just the mouse! Click the cards to select them and then click on the characters to set the target. Move around the map clicking on wherever you want to go.
A mix between card game and RPG. Made with Pico-8.
Comments
Log in with itch.io to leave a comment.
I love it, but the mouse freezes in the top left in fullscreen mode. other than that good game!
Hey, thanks for letting me know, never noticed that. Apparently this is a pico-8 bug that has been fixed in the new version, luckily. I will release a new version of the game very soon with a lot of new stuff, so the fullscreen issue will be fixed too!
Great game, the game play is fun and easy to understand, good job !
Awesome! love the classic feel and art style!
Love it!!! <3 :) Awesome work!!! ;)

Hi, i have this error -->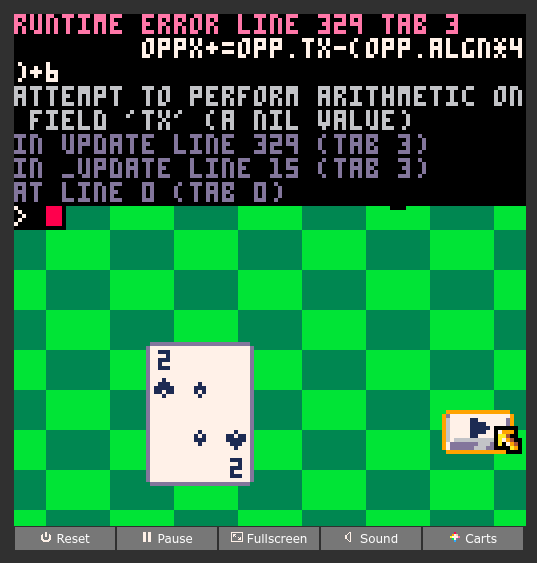 Weird, I never had this bug... I tried to replicate it but found nothing... Looks like it's early in the game. From the image it looks like you used 2♠ to buff your character and then clicked the play button. Do you have any other detail? I'll try to look more into it.
I think I stopped selecting a card and hit play. I don't remember well...
I can't replicate it again :(
Good. hahaha ;D
Anyways thanks for telling, I'll try to find it still!